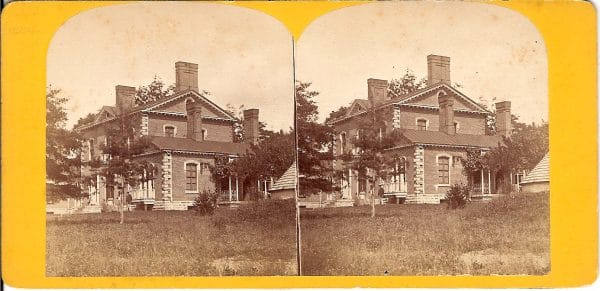 Right now, many people are stuck at home and are looking for ways to access the wider world without leaving the house. Bettye from Versailles did that as a child with her grandmother's stereoscope (top image). A stereoscope is a device like a view master viewer that has an eyepiece with two lenses that focuses on a card holder.  Using special cards printed with two nearly identical photos, a 3-D image can be seen by looking through the viewer. Bettye could visit places all over the globe through her grandmother's viewer. She inherited it after her grandmother passed away because she knew how much Bettye liked the viewer as a child. Bettye keeps it in her living room and thinks of her grandmother every time she sees it. Before TV and the internet, people could have all sorts of adventures this way.
The Clay family certainly did this. Their home was also featured as part of a five-card set (2nd image) taken by a Lexington photographer and sold in stores. One of the stereoscopes in Ashland's collection is pictured below.
Stereoscope of Ashland by Mullins, c. 1880. Learn more about the stereo card here!
To learn more about the stereoscope, click here!